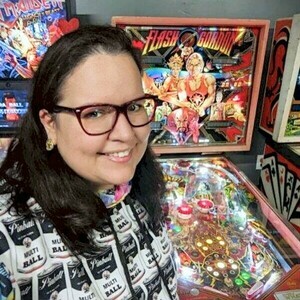 Lauren Gray
Co-Host of Backbox Pinball Podcast
Hey there!
My name is Lauren and I am the creator and host of the Backbox Pinball Podcast. I have been a pinball enthusiast my entire life. After my first game of PinBot as a kid, I was hooked! I began playing competitively in 2018 and founded the Belles and Chimes San Antonio Chapter in 2019.
As a tournament player and league coordinator, I felt that there was a space to include a female POV in pinball podcast-landia.
I hope to have not only players on the show but creators, dreamers and entrepreneurs from all corners of this wonderful hobby. If you would like to be a guest on the show or know a cool lady that should be, please drop me a line at: backboxpinballpodcast@gmail.com
Lauren Gray has hosted 113 Episodes.